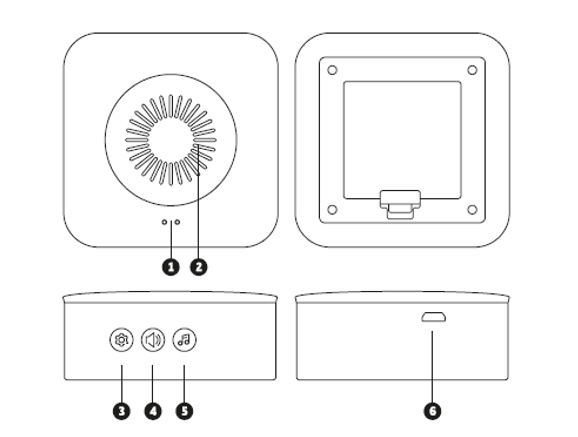 1 Status light
2 Speaker
3 Pairing button: Press for 5 second to restore to Factory Settings. Press 1-2 seconds to pair with the door bell.
4 Volume button: Press to adjust volume (looped)
5 Ringtone button: Press to switch between 4 ringtones
6 Micro USB port
Pair your Chime with your Smart Doorbell
Install 3 AA batteries (not included). Press the pairing button for 1-2 seconds. The red status light will blink slowly.
Press the door bell button to pair. Once the status light dims a jingle will play and pairing is successful.
The blue status light will flash when a jingle plays The volume starts at maximum volume (> 80 Db).
Pressing the volume button will lower the volume, then go back to the maximum volume.