Linking a scene directly to the Smart Remote is unfortunately not possible, but with the instructions below you can still achieve the desired result.
You can switch one lamp on/off with a Smart Remote. By including this action (lamp on) as a condition in a scene you can activate the scene with the Smart Remote via this way.
In this way, the Smart Remote can be used to create mood lighting, for example, or to adjust the lighting in the room according to the activity. For example, if a movie is being watched a scene can be created where only the backlighting is on and the atmosphere in the room is increased without the light being too bright. By using the Smart Remote, this can be done easily and quickly without the need for different switches or remote controls.

In the example below, the Smart Remote is paired with the Calex A60 Gold lamp. Once this bulb is turned on with the Smart Remote, this scene is activated, the Calex A60 is dimmed to 30%, the Calex G125 is dimmed to 20% and the Calex Smart Halo is set to the color blue.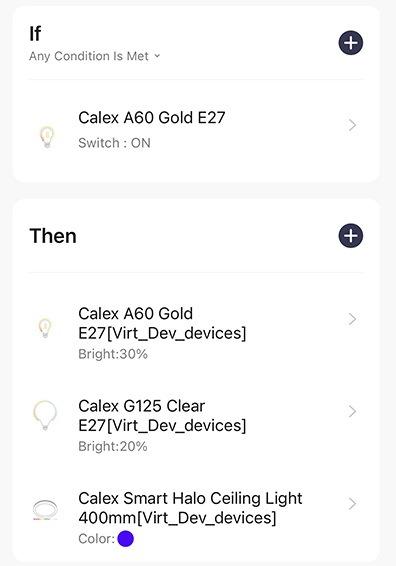 Of course, you can also use other conditions to trigger a scene, such as when a lamp is dimmed below or above a certain level. For example, with this condition:


Instead of a lamp, of course, you can use a smart power plug to trigger a scene.
If you have any questions about this or need support please do not hesitate to contact us. You can do this at https://help.calex.eu/ and choose 'Submit a request' at the top right. Even if you have come up with a nice or clever scene yourself, we would love to hear from you.